I have the otherworldly pleasure of being married to a fantasy writer. He started writing novels over 10 years ago. Since then, he's been fighting to break into the fortress that is the publishing industry. We recently learned about
KindleScout
, a reader-driven site for never-before-published books by emerging authors. One necessary element of entering was to provide cover art for the submitted book. I naturally volunteered to help.
Mandrake's hand after first major battle
Liefdom
takes place in a unique realm created by Jesse Teller. It's the story of a fairy named Gentry Mandrake. Born with natural weapons in a race known for pacifism, he is cast out and hated for his differences. It's a hard book to visually represent, filled with love and darkness, hope and death. We didn't want a detailed illustration of one scene on the cover, preferring to instead come up with a simple, striking visual.
When I asked Jesse if he had anything in mind, he mentioned a drawing of Mandrake's hand I had sketched a few years earlier. He also wanted a parchment background to give it a sense of age. In
Liefdom,
the main love interest is a fairy who inks the designs of butterfly wings. I wanted to also use colored ink splashes somehow.
Jesse wanted hand lettering for the title art and insisted on working with
Chris Mostyn
, a talented artist and friend. He was great to work with, very responsive. After a few initial sketches, he sent us this:
We put it all together and came up with a strong design that invokes struggle, pain, and beauty.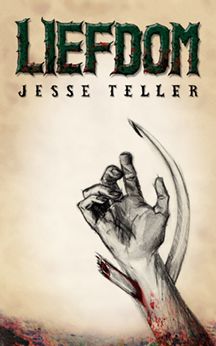 Initial cover design
However, after doing a bit of research and reading some fine print, we decided we needed a less bloody version! We tried taking off the red, but it lost impact in the process. For the final cover art, we eliminated the hand and brought in more splattered ink. The ink splashes are actually watercolor, with added saturation and multiplying done in Photoshop.
The dark lower portion of the cover begged for something to anchor it. I needed a brief line of copy to balance the title art. It was the perfect place to include a mention of Perilisc, the name of the continent in which the story takes place.
It's organic, tense, and beautiful. The spotlight behind the title adds contrast, and a sense of hope, while an inexplicable darkness creeps up from below.
Final cover design
For more about
Liefdom
and Jesse Teller, visit his
website.