Artists like to talk about process. The steps we take to create work are part routine, part conditioning, part mystery. Process is a vehicle to creation. It's a way to teach the mental patterns. But it's not an absolute necessity. You've probably heard the saying, "You have to learn the rules before you can learn to break them." This certainly applies to the creative process.
In college, I spent semester after semester learning the process of design. Research. Sketch. Choose the best idea. Create it. Fine-tune it. Re-evaluate whether it was the best idea. Start over as needed. Polish. Present. We'd spend several weeks on one project at a time. One professor challenged us to condense this process. He'd assign a project to be completed within one 3-hour class. In the real world, time is not always available. Often, you have to work fast and be good at it.
Creating quickly and effectively, relying heavily on impulse and intuition, is a fantastic skill to practice.
In my recent endeavors, having just learned the process of drawing mandalas, I became intrigued with the idea of abandoning that process. How would I do with no gridlines? What would I draw with less time to think?
I had to try it, if for no other reason than to sate my curiosity. Armed with two weights of black Sharpies, I picked up a blank sheet of paper and began. Here's what I did in one session. I spent about an hour and twenty minutes on it.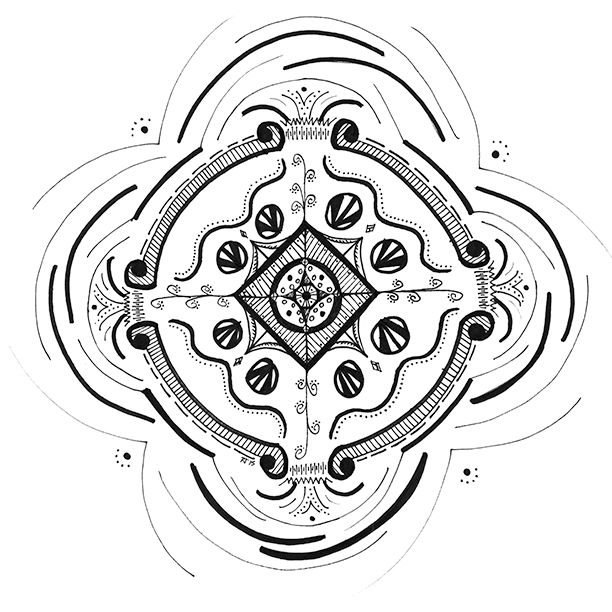 Spontaneous
It's a little lop-sided, but I'm glad I tried it. For now, I prefer penciling in guidelines, sketching out a preliminary drawing, and spending more time on each step. Taking my time and building from an initial sketch leads to better symmetry, which is more appealing to me for mandalas.
This is a great experiment, though—a clear representation of where my freehand skills are right now! I may revisit this technique later down the road, either for a change of pace or to check my progress. Sometimes it feels good just to get something new down on paper. Changing or abandoning your ritual can refresh your mindset.
For now, I'm ready to move on to a different medium. I'm planning a mandala in watercolor. I'll let you know how it goes...